construktiv GmbH – the makers of Mister Wong, websnapr, mypictr or pixer.us – have launched Beam it up Scotty, a small but useful tool to easily send files to mobile phones.
You can upload photos, videos, music and any other type of documents on the site, have it compressed and optimzed for mobile devices if you want and the service will send you a text message with a download link to your document for your cellphone to use.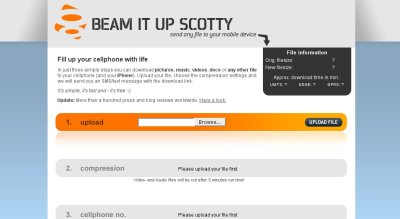 Beam it up Scotty if free, you can access your files for 7 days, usage is limited to 10 docs a day.
(This article originally was written for blognation Germany. Since blognation is gone I have reposted it here)
11.12.2007 #
construktiv
mobile