Back in August I compiled a list of German startups who use Twitter and also wondered why so little use is made off this little tool. Since then the number of German startups using Twitter maybe tripled, but given the plethora of amazing/insightful/overall fantastic mashups and 3rd party apps making use of the Twitter API which have been developed in the past couple of months there has not been a lot of creative misuse of Twitter happening here.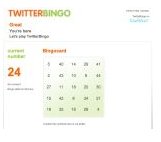 Well, today the guys from shoppero [was http://en.shoppero.com/] – a platform for product reviews with revenue sharing and a strong shopping compontent launched TwitterBingo [was http://twitterbingo.com/] as a pet project for fun and to promote shoppero a bit.
As the name suggests it combines Twitter and the addictive game Bingo and whenever you win you twitter "Bingo" and get a $1 dollar coupon for shoppero.
update: TwitterBingo has shut down
update: Shoppero has shut down
(This article originally was written for blognation Germany. Since blognation is gone I have reposted it here)
07.12.2007 #
deadpool