T-Online – Germany's largest web portal – is shutting down two of its properties at the end of the year. Both T-Community, a kind of social network with blogs, photo and video sharing, homepages and the like, and WIR Groups, a service to build your own community, prominently display a final countdown on their homepages, thank their users for stopping by, tell them to back up their data and ask them to join other services from T-Online, maybe they keep these going longer.
This was not the first experiment with user-driven / social elements of T-Online which failed and just was dumped. In 2005 they also tried to host blogs of their users in cooperation with Sixapart and discontinued the service after only a few month in December erasing lot of energy invested by trustful users. In 2006 they started T-Community as more promising undertake.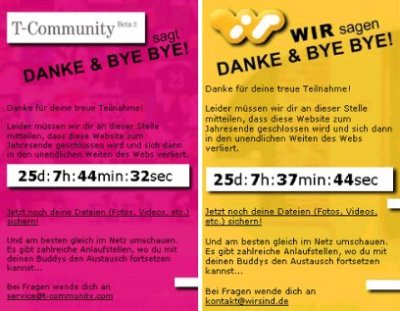 To their credit they are at least trying, see also the launch of their Beta Portal which has set out to become the startgate 2.0 for their customers featuring new services.
T-Online is not the only major traffic player who has a hard time translating clicks of their portal into passionate members of their communities. Web.de, another huge portal which belongs to United Internet, has launched social network unddu.de earlier this year with big expectations but the site never gained any traction and they just acquired ShortView as a second shot in the social networking space. But the fundamental problem of established portals is in their thinking. They don't want to rock and create value for their users, they just want to expand and harvest user generated page impressions and make any value flow back to them (see the complete works of Umair Haque for a critique on this kind of disposition and T-Online Vs. Facebook for a more specific analysis.)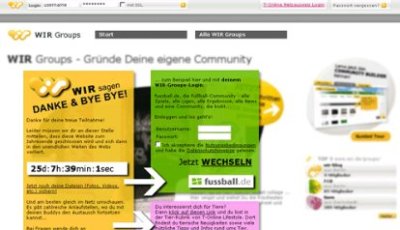 (This article originally was written for blognation Germany. Since blognation is gone I have reposted it here)