Bonn based mixxt – a site which provides the basic building blocks to run your own community / social network – was publicly released today. Mixxt actually has been around for a few months now, German barcamps (e.g. barcamp Berlin or Cologne) have been organised via mixxt communities already, but until today a golden beta token was required to create your own network.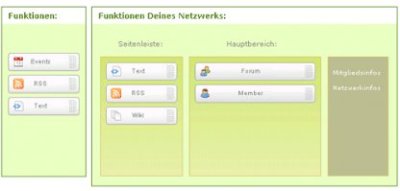 Once you have created a new network you pick a (sub)domain name and a hopefully significant name for your network, choose the language (currently English or German), add a description and tags. Then you assemble it by adding the features you want via drag and drop. Available modules are a forum, a wiki, events, list of members, free text and you can pull any feed. If you are a designer you then can go nuts with the design, or if you are less ambitious the provided templates should do fine. Privacy or visibility settings can be specified for pretty much every aspect of the network.
Similar to six groups mixxt also takes a metacommunity / meta social network approach:
Existing users can join and contribute to any (other mixxt) community in a matter of seconds. Owners can run their communities the way they want to but at the same time enjoy stronger network-effects and more effective marketing than existing communities provide.
We have seen quite a few similar services in Germany launching this year – mypeopls (see our coverage), six groups (see), Holtzbrinck backed groops (see) or MyFaible which just launched too – so this is a competitive environment and of course there is 800 pound gorilla Ning in the DIY networking space.
But there is something about mixxt I really like. The site has a 37signal-esk quality, not so much design wise, but in the way they succeeded in opinionatedly focusing on the essentials and stripping out the rest.
If you are serious about starting your own community it probably makes sense to evaluate them all and use the service which clicks with you or your needs. And if you are fearless you are invited to join the Couch Betato community, an informal marketplace for beta invites.
mixxt was founded by Philipp Ellenbeck, Daniel Peters, Christian Stein and Oliver Ueberholz. A second round of seed financing has been closed but no details on the investors have been disclosed yet.
Company blog: Blog
(This article originally was written for blognation Germany. Since blognation is gone I have reposted it here)
05.12.2007 #
mixxt