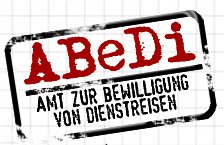 Lots of Woot-style sites have popped up in Germany lately. ABeDi is an interesting permutation which sells travels. Each day a new all-inclusive offering is published which is bookable for the next three days or until sold out.
The service is run by travel agency Nix-wie-weg which according to Exciting Commerce is one of Germany's first online travel agency who are around since 1996.
While the design of the site does not mimic the webdesign of 1996, they resisted the temptation to incorporate every contemporary design element, and they obviously had a lot of fun crafting it.
ABeDi is short for Amt zur Bewilligung von Dienstreisen which roughly translates to bureau for granting official journeys and this beaurocratic meme runs consistently throughout the site, they even make playfully use of it in their legal statement.
(This article originally was written for blognation Germany. Since blognation is gone I have reposted it here)
05.12.2007 #
travel