Social Web Guide pagekick opened its doors today to the interested public. The site is basically a reinterpretation of old school web directories under the conditions of the read/write web.
We see a lot of elements inspired by digg – members can add stories, vote for stories, comment stories, bury stories and the profile of members lists the contributed stories, stories which have been published, stories the user has voted for or commented upon etc. – but the dynamics are less free floating and self-organisational and rather embedded in a more hierarchical / editorial environment with a portal like look and feel. User submitted stories are encouraged to be well written, at least 3 sentences long (autch!) and seem to be moderated before they are published.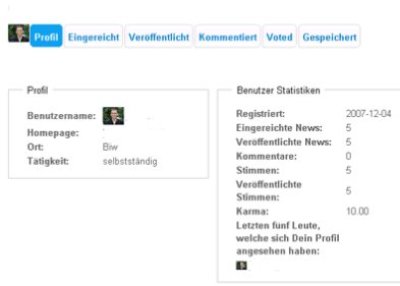 There are four main sections: news (news articles and blog posts), blogging (blogs), portals (various websites and services) and tips and tricks (blog posts and lots of editorial content.) The site also provides a second layer of organisation based on categories (cars, finances, computer, entertainment, gadgets, etc.) and of course there are tags.
The main page prominently displays some editor's picks, lists the most popular stories of the main sections, the overall top 25 and the most recent entries. Any section will display various subsections (e.g. blogs will split up in tech-blogs, law-blogs, cat-blogs) and offers top 10 and most recent lists.
This is all fine and pagekick is not bad looking, but I wonder whom the site is for and who benefits from it. I doubt that the digg crowd will migrate over because it doesn't add any value for them and probably is less fun. I also don't think the blogs and portal listings will offer a lot of news value to anyone who already is interested in any topic and knows the most popular sites or blogs. Even now we already see the same old same old propagated to the top of the lists. Since pagekick is more polished it might be useful for less web savvy users who don't know about existing alternatives or to find out about new topics since noise tends to get filtered out, but I have a hard time imagining a user group which proactively drives a momentum and at the same time profits from the site.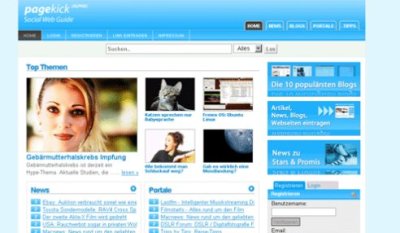 pagekick was developed by Sebastian Fiebiger und Gabriel Dobersch, they are based in Berlin.
Company blog: Blog
(This article originally was written for blognation Germany. Since blognation is gone I have reposted it here)
04.12.2007 #
directory