Todays launch of Niboki marks an interesting twist between art, outsourcing and social commerce. The site – which has been developed by Leipzig based mygall, a platform for contemporary artists to sell reprints of their art, adopts the Woot model for selling mass produced oil paintings.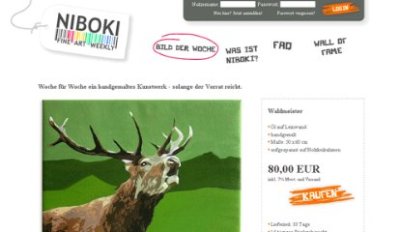 The site sells one painting a week in limited edition at a very cheap price. The first painting Waldmeister for instance, which depicts an intriguing belling deer, can be purchased for €80. Currently they are shipping within Germany only.
one week, one painting.
What's interesting is their mode of production. A team of artists, photographers and designers develop the concept and original copy of the paintings in Germany, but the actual painting is outsourced to China:
In a small manufactory in the south-east up to ten fully qualified young artists and graduates of art schools paint our motives in small series. This enables us to offer high quality paintings at a very reasonable price.
I'm no art historian, but our notion of art has to be redefined as societies and technologies evolve. Just think about Walter Benjamin's essay from 1936 The Work of Art in the Age of Mechanical Reproduction which reflects the impact of technical reproducibility on art or Andy Warhol's factory where his assitants produced the works but yet they inherited his ingenuity. While Niboki is selling art the way they do it might become the work of art itself.
(This article originally was written for blognation Germany. Since blognation is gone I have reposted it here)
04.12.2007 #
art
marketplace