Quickly noted: Brokr – a social stock trading prediction market game from Oldenburg, see our previous coverage – today was sold on eBay [no longer listed] for 75,000 euro. Since the site launched in August it has attracted about 3,500 members, about 700,000 PIs are generated each month.
The buyer is Matthias Kröner, member of the board of Fidor AG, who also have invested in Sharewise, another German stock exchange community
---
Hamburg based ComeUnited is a new platform for people working in media, entertainment and various other creative industries to promote themselves and their work and to hook up with fellow members or potential customers.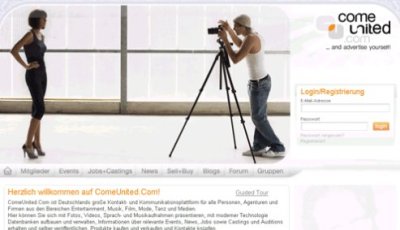 The site lets its members create a profile page to provide an overview on their skills, portfolios and past activities, profiles can be annotated with photos, videos or audio files. Besides profiles ComeUnited also lists events, aggregates related news and provides forums, groups and a section for castings and jobs.
Since jobs in media and entertainment more often than not are accomplished by an essemble of losely coupled group of people on a per project basis the social network between everyone involved becomes crucial, both for service provides to attract interesting jobs and for customers to assemble good teams when needed. ComeUnited wants to become the marketplace for these two groups to connect and meet.
Basic membership is free but highly crippled – e.g. you only can upload one photo, no videos, etc.; €10 per month will buy you a premium status to fully use the site and rebats for agencies to create multi-profil accounts are available. Another stream of revenue is AdUnited which lets members buy the top position on searches on the site on a per klick basis.
Coming up with a reasonable pricing scheme is tough these days, but charging prices based on a anticipated monopoly before any actual value is created in the platform is probably a bad decision and will not help them with their initial growth. Unfortunate pricing models is becoming a recurring theme here it seems.
Company blog: Blog
---
dotSource from Jena has launched Newskraft – a semi-social aggregator of local news – in public beta yesterday. Newskraft scans more than 200,000 blogs for stories specific to geographic regions and reorganises them as a portal of news of your neighborhood.

Stories can be browsed by various categories (misc, economy, politics, sports, culture) or by city / postal code. Members of the site can vote for stories, tag them, add comments or correct them if they have been falsely classified by Newskraft's discovery engine. Or they can contribute stories of their own, either by adding links or by writing and publishing articles on the site.
While I like the idea of this hybrid between blog aggregator, digg and citizen journalism portal which potentially reconstructs the most interesting local stories as a local newspaper filtered by one's interests the current results are aleatoric at best and their heuristics for automatically labeling stories and filtering out irrelevant noise need to be vastly improved to make the site informative and enjoyable.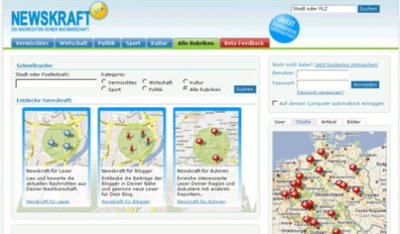 The community of readers can jump in and flag bad stories or categorize and geolocalize interesting blogentries of course, but as is they need a strong and dedicated community and they need it soon to make Newskraft fly.
Company blog: Blog
---
Business network Xing will add a Facebook-style Mini-Feed dubbed What's new in my network on Monday the company announced today.
What's new in my network gives XING members live updates on their start page of the latest developments within their own personal networks. Now XING members will be able to see at a glance whenever a direct contact joins a new company, gets promoted, connects to a new contact or edits their profile data.
Xing learned the Facebook lessons (the member revolts when Facebook originally introduced the feed and the current beacon fiasco) and makes this feature completely user-configurable. Users can both control which type of data they want to stream and what they want to be informed about from their network.
(via zweinull / netzwertig)
---
Hamburg based moviemates pinged us about their brand new OpenSocial Gadget. To my knowledge this makes them the first company from Germany to come up with a working application for this Google led initiative to plug in appications and services into every participating network (Xing and Amiando have been official launch partners, but they have not implemented the API as container or developed an application yet.)


adding moviemates in Orkut
The moviemates open social app lets users add their favorite movies, actors and directors to their profile, rate and review them or browse the recommended movies of their friends or which movies they want to see.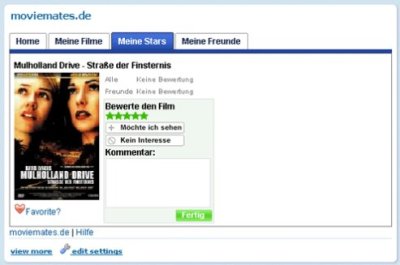 The gadget has been a bit rushed to market it seems, a few views OpenSocial containers expect have not been implemented yet and it is not possible to add it to all OpenSocial containers (I was able to run it in Orkut's sandbox but not in Ning) but it is good to see an example in action. When Facebook released their platform most German sites missed the opportunity to mark their territory early in the game and only jumped on the train after the first major success stories were reported and thousands of other sites already have become available.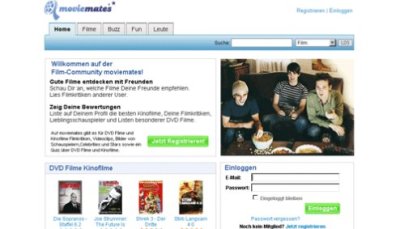 screenshot of moviemates.de
---
When it comes to bloggers writing paid reviews there is a consent amongst most bloggers that paid reviews should be disclosed. Beyond that the debate whether this is good or evil, cool for bloggers or a sellout which is disastruous for the blogospherical ecosystem often has become quite ethical, emotional, even hysterical.
In the German speaking part of the blogosphere Switzerland based Trigami has adopted the PayPerPost model of matching companies who want to get the word out (and a link in) on their products and services and bloggers who are interested in writing a paid review in their blogs about a year ago and quite successfully so.
With hallimash Germany just got another competitor in this space. They sing the usual markets are conversations mantra and add some word of mouth marketing gloss but like PayPerPost, ReviewMe or Trigami hallismash is a marketplace for advertisers to book bloggers for writing reviews. Paid blog posts mediated by hallimash need to be disclosed and bloggers get €10 – 300 depending on their traffic and authority for these posts.
My take, I'm glad you asked: I think it's great that bloggers can make some money with their blogs if they want to, even more so if they can write about a topic they love. But if they just like the idea of cashing in on their blogging habit a bit they should keep in mind that there are opportunity costs involved. Writing about something you wouldn't write about on your own makes it a job and depending on the time invested in the article probably not a very well paid one. And justified or not there is a risk of losing the trust of some of your readers or to annoy others. Noncommercialism is one of the core values for many fellow bloggers in Germany, as odd as this may seem everywhere else.
At the same time advertisers need to be aware that this type of marketing not necessarily triggers the viral effects promised. In a way paid blog posts have an intrinsic non-viral aspect and might even discourage other bloggers to carry on a story – i.e. if this guy gets paid €50 for his lame review, why should I write about it for free?

screenshot hallimash

screenshot Trigami
---
Nilter and MyRSS are two recently launched startpages made in Germany. If you know Netvibes or Pageflakes you know the deal: the sites aggregate a few RSS feeds from popular news sources and organise them in easy to navigate tabs and if you want you can customise these feeds, add some widgets (todo lists, bookmarks, calculator, local weather, …) and create your very own infotainment center.
Most people don't know about RSS yet and since handling feeds is a key skill to efficiently extract maximum value from the web all efforts to spread the word should be applauded. Both sites have been developed in an academic setting – Nilter comes from a spin-off from the department for information management at the University of Cologne, MyRSS has its roots in the University of Frankfurt – and both sites are decent looking and try to attract new audiences.
Nilter (their proclaimed goal is to "provide ubiquitous personalised cross-medial information") has teamed up with T-Onlines beta portal and MyRSS provides workshops for students and professors.
But startpages are a solved problem. And neither Nilter nor MyRSS add anything new to the mix. In fact Netvibes et al. provide much more features both for consuming and sharing, collaborating or publishing feeds and hence much more value to their users. Why reinvent the wheel over and over again?
---
Christmas is coming and just in time shopping sites sprout like mushrooms these days. One of the cutest of them is Berlin based ShopWindoz which launched two days ago.
ShopWindoz lets you create a shop with a few mouseclicks. Currently the site is free, they will start to charge €10 per month and a commision of 5% per sale sometime next year. You can add and sell as many products as you want and design the shop to your liking, but a lot of sites let you that and quite a few white label solutions are around for running a shop on your own.
The idea of ShopWindoz is to focus on niche products offside the mainstream (tees, music, poster, comics, shirts, skateboards, jewelery, vintage, …) and on independant brands. The value proposition is that one micro-brand alone is a monadic island but together they are strong:
ShopWindoz is not one shop, but many. The platform makes them strong. All shops together make a unique environment which benefits everyone. The more interesting shops participate, the better becomes the site, the more visitors will be attracted, the better the chances for each individual shop.
The features and info-aesthetics of ShopWindoz resemble user driven / web2.0-ish sites a lot. There are a lot of feeds: feeds for new shops, feeds for new products, feeds for new items in a shop and so on. Horizontally divided layout, tags and tagclouds everywhere, ratings, comments, the way paging is implemented, the default icon of users' avatars, etc. will make a lot of people immediately feel right at home.
ShopWindoz has some room for improvement – Exciting Commerce misses a unified shopping cart, faceted search (e.g. by price range) across the site or social features which connect the shoppers and let them add value to the platform are missing – but overall the site is a refreshing and good looking newcomer in the German shoposhpere.
Company blog: Blog
Company twitter: shopwindoz
---
Cologne based yingiz is a social shopping community which wants to drive an economic revolution for consumers.
The basic idea is that while individual custumers are very much at the mercy of sellers if they want to get some rebate on their purchases, a bigger group of interconnected shoppers is in a much better position to nogotiate discounts. yingiz wants to become this marketplace for connecting shoppers with each other and with interested sellers who profit from huge orders.

examples of partner shops of yingiz
Whenever a member makes a purchase at a partnering shop – currently more than 1,000 shops participate – he earns a commision (commisions also can be earned via other activities like referring a lead etc.) Simplified: yingiz keeps 40% of the earned commisions, the rest goes into the pockets of the member in cash.

the yingiz commision model
They have developed a browser extension dubbed yingBar which will tell you when you are browsing a website which provides a commision for members.
Members also can announce wishes and depending on the popularity of the wish might attract a seller or not and sellers can dare the yingiz community with bets. The idea here is that higher priced goods are sold in large quantities at a significant discount.
Company blog: Blog
---
palabea is a new online community for people interested in learning languages, getting connected with local speakers and discovering new cultures.
The site is user driven and provides various channels how to provide or consume learning material – audio, video, documents – which can be used in virtual classrooms, assembled in lesson plans, recommended by teachers or used on their own. The site is new and only a few learning objects have been uploaded, so it is not possible to evaluate the quality yet, but the possibility to easily hook up with native speakers in a reciprocal situation is fantastic.
The site provides an Online Tandem mapping which matches members with mutual interests – i.e. if Fritz is a native German speaker and wants to learn Spanish and Diego is a native Spanish speaker and wants to learn German they can text message, talk, video chat or help each other out.
palabea has been founded by Patricia Sierra Fernandez, Sebastian Schkudlara and Guido Veth, they are based in Berlin.
Company blog: Blog
---
Munich based WhatsYourPlace has launched one of the more interesting variations on the Million Dollar Homepage this weekend.
The site lets you buy virtual real estate on a Google Map and paints some community features on top of this. Once you have purchased some land it gets registered in your name, you become an official WYP and you also can add photos, memories or points of interest. Other members can visit your place, leave comments, mark it as one of their favorite places and show their appreciation.
Suggested use cases include marking your territory before someone else does, passing it on as a present, using it for marketing or make it an object of speculation and resell it later.
The site is nicely executed and the idea is not bad, but they are smothering the inherent viral potential and probably completely blowing it with their ridiculous pricing scheme. A random baseball field is sold for 10 euro, Wembley Stadium comes at about 130 euro, if you would like to purchase the land mass of the world this would set you back about 150 billion euro, the maximum area for a parcel you can buy is 50 ha though so you'd need to buy a lot of parcels.
(via)
Company blog: Blog
---
Munich based Auvica has released version 2.0 of their CMS for media contents osTube – a framework for creating websites similar to YouTube or Sevenload.
osTube comes in two flavors: a free Community Edition and an Enterprise Edition which provides a server cluster solution, live-streaming, HDTV, IPTV-scenarios, modification of the source code and the like.
We didn't test the service and usually we don't write about services we didn't get our hands on first, but the demo they have set up looks promising. The design could need some polishing, but all features you would expect from a social video sharing site are there which after content and social networks brings us one step closer to the commodisation of video sharing sites too.

osTube live demo

osTube admin interface
(via)
---
NDR – one of Germany's public television stations – has launched a pilot project to evaluate how opening up their content a bit might impact audience behaviour and started to make two shows available under a (by-nc-nd) creative commons license.
While they have implemented this in the lamest way possible – you can stream past episodes of media magazine Zapp and political satire Extra 3 in Realmedia or Windows Media format or you can download them, no way to embed the content on your own site if you don't upload it to a video sharing site yourself first, no way to remix or modify it, no way for users to interact or add value for them etc. – the significance might be bigger than it seems.
NDR is public television and part of the ARD network which has a similar licence fee scheme as the BBC. With few exceptions everyone who owns a television in Germany has to obligatory pay 17 euro each month. Since they don't have to worry about market share from an evolutionary point of view they are the least likely to adapt to the transformations in media environment and change of user behaviour and expectations.
The content we provide on the web has been paid by our visitors via the licence fee already. Since we mainly reach a younger audience on the web, the use of a creative commons license is especially interesting for us.
says NDR director Jobst Plog and he has a point.
It is great to see that they are trying to reflect new realities, but the problem I see is that this experiment is set up so badly that the conclusions are arbitrary, whether these clips gain a viral momentum or not. I wonder why they have to start from the scratch when they just could take a look at the lessons learned from their esteemed collegues a few miles north at the BBC or many others of course.
---

photo credit: ToastyKen
We are experiencing problems with the comments at blognation Germany, they currently just get lost. Maybe a mouse has sneeked into our database and cut some relations.
Anyhow, we are aware of the problem and working on it. We will let you know when the comments are back again.
---
Yahoo is having a hard time in Europe. According to Comscore Yahoo has a poor 3.2% share of the European search market compared with 18% in the US and 14% worldwide. The FT recently reported that "Yahoo staff have been given until the first quarter of 2008 to revamp the poorly performing parts of its European business – or these will be closed down or sold.". And it is probably safe to state that the brand Yahoo does not have the best connotations in Germany.
Yahoo's involvement in the arrest of Wang Xiaoning was a way bigger issue here than in the US (Yahoo puts profit over human rights is probalby one of the first associations you will get from many people), it did not help that they treat all Germans like children who only are allowed to access safe photos on flickr (censorship is a highly likely second association) and stomping on a local little guy will not help them polish their image neither.

alexa: del.icio.us vs. icio.de
Social bookmarking service icio.de recently has received a cease-and-desist order from Yahoo legal for misusing the icio fragment of Yahoo owned del.icio.us. According to gulli he deadline will not allow them to cleanly migrate the service so they might have to shut down.
icio.de is obviously no thread to del.icio.us (see the chart above, in two years only 225,000 bookmarks have been saved – I for instance alone have saved more than 10,000 bookmarks at del.icio.us) and while del.icio.us is a nice domain hack icio means nothing in German and probably just was playfully signifying upon on this domain hack.
Yahoo has all rights to protect its trademark and it probably was a stupid idea to name the site icio.de, but Yahoo is showing bad judgement and behaves like a bull which makes them, well, look like a bull in Germany.

screenshot icio.de
(via)
---