26.11.2018

Amazon's own 'Machine Learning University' now available to all developers
- Amazon macht die eigenen ML-Kurse public.
Today, I'm excited to share that, for the first time, the same machine learning courses used to train engineers at Amazon are now available to all developers through AWS.
#
amazon
---
taginfo for amazon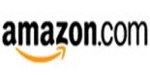 Amazon ist natürlich ein bekannter Buchhändler, hier sind aber vorwiegend die cloudigen Aktivitäten interessant.
Links