12.12.2017

Build your ads free search engine with Bing Custom Search API
- Ha, anscheinend offeriert auch Bing eine Custom Search API.
It's a little over 6 weeks since we made the Bing Custom Search API generally available. We are excited to see the applications our partners are building and are overwhelmed with the response we are receiving.
#
bing
---
taginfo for bing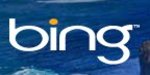 Bing ist die neue Suchmaschine von Microsoft. Gar nicht so schlecht.
Achtung: um das eigentliche Bing zu sehen, muss die Ländereinstellung auf US gesetzt werden.
Links