08.03.2016

Changes to Flickr Pro and coupon for 30% off
- Flickr schiesst sich selbst ins Knie.
The biggest change is that we are making the desktop Auto-Uploadr a Flickr Pro-only feature, giving Pro members exclusive access to the tool. This feature lets you effortlessly upload all of your photos from wherever they are being stored, while making them accessible from any device.
#
flickr
---
taginfo for flickr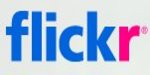 Flickr ist die beste Photosharing-Seite, ein wunderbares Auge der Welt. Gegründet wurde es 2004 von Stewart Butterfield und Caterina Fake, 2005 hat es Yahoo gekauft – und von kleineren Stolperern abgesehen eigentlich recht sensibel weitergeführt.
Links