11.08.2015

Building the Next New York Times Recommendation Engine
- Die NYT über ihren Empfehlungsmechanimus.
In this post, I'll discuss our recent work revamping The New York Times's article recommendation algorithm, which currently serves behind the Recommended for You section of NYTimes.com.
#
nyt
---
taginfo for nyt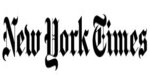 Die New York Times ist zwar eine graue alte Dame, allerdings auch eine der innovativsten Zeitungen im Web.
Links