07.05.2015

Find every photo with Flickr's new unified search experience
- Flickr stellt wieder einmal ein neues Design vor.
Today, we're thrilled to bring you a new unified search experience that is intelligent, intuitive and fast.
#
flickr
---
taginfo for flickr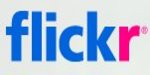 Flickr ist die beste Photosharing-Seite, ein wunderbares Auge der Welt. Gegründet wurde es 2004 von Stewart Butterfield und Caterina Fake, 2005 hat es Yahoo gekauft – und von kleineren Stolperern abgesehen eigentlich recht sensibel weitergeführt.
Links