28.01.2015

Welcome to the new Guardian website
- Der Guardian erstrahlt in neuem Glanz.
After more than 18 months of development, the Guardian has unveiled a new site for its readers in the UK and around the world.
#
guardian
---
taginfo for guardian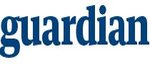 Der Guardian ist, gemeinsam mit der BBC, wohl das innovativste Medienunternehmen, was die Reorientierung unter den Bedingungen des Internet betrifft.
Links