09.08.2011

bitly Acquires Twitterfeed
- bit.ly übernimmt Twitterfeed.
Today, we are excited to announce that we have acquired Twitterfeed, and to welcome both Twitterfeed and its users to the bitly family.
#
bit.ly
---
taginfo for bit.ly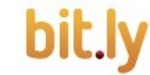 bit.ly ist ein URL-Verkleinerer mit API und Analytics. Ich verwende es, weil es dank einer Ausstattung mit Venture Capital wohl zukunftssicherer ist, als die Schar alternativer Tools, die uns in Hunderterschaften beglücken.
Links