03.08.2011

Submit URLs to Google with Fetch as Googlebot
- Die Webmaster Tools bekommen eine neue Möglichkeit zum Einreichen von URLs.
The Fetch as Googlebot feature in Webmaster Tools now provides a way to submit new and updated URLs to Google for indexing.
#
google webmaster tools
---
taginfo for google webmaster tools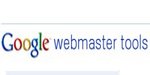 Die Google Webmaster Tools offerieren ein Bündel an Funktionen, mit denen man die eigene Webseite für Google optimieren kann.
Links