06.05.2010

Shop and Share with Bing
- Bing integriert Elemente von social shopping.
You've had sharing for certain results like news and entertainment for a few months and now we bring you this sharing experience into Bing Shopping! With a single click you can ask for advice from your friends on Facebook and followers on Twitter for their take on a product you saw on Bing Shopping.
#
bing
---
taginfo for bing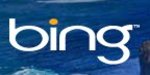 Bing ist die neue Suchmaschine von Microsoft. Gar nicht so schlecht.
Achtung: um das eigentliche Bing zu sehen, muss die Ländereinstellung auf US gesetzt werden.
Links