12.02.2010

Aardvark joins Google!
- Google übernimmt Aardvark. Die Ankündigung im Aardvark Blog.
Aardvark has defined a new kind of social search: sometimes you want a person, not a web page, to answer your question. We're extremely excited that Google shares our vision for how search can continue to evolve by including social features.
#
aardvark
---
taginfo for aardvark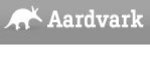 Aardvark ist eine neue Art von Q&A Dienst. Man stellt seine Fragen via IM, Aardvark routet sie an geneigte Experten, die dann antworten. Im Februar 2010 wurde es von Google übernommen.
Links