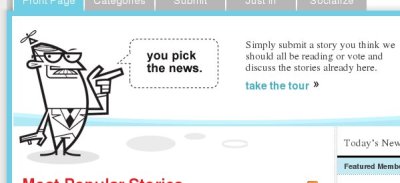 Propeller seems to have gone the way of Yahoo Buzz, which to me, basically says: we (AOL) are a huge company, and we need a Digg clone. But, we don't want to confuse the non-nerdy audience, so we're going to make the site seem as plain and simple as possible.
Wrong. Users who create communities around sites like these love their news organized. They love being able to quickly scan a lot of items.
Mashable zum neuen Design von Propeller, wahre Worte, die das grundsätzliche Dilemma skizziert, das grosse Unternehmen haben, wenn sie sich auf sich erfolgreich erwiesene Modelle stürzen und diese Massenkompatibel machen wollen (und sie können nicht anders, als das zu wollen, und also können sie nicht anders, als in diesem zuge auch noch den letzten funken wert/sinn/ausdifferenzierungspotential/usw. zu zerstören).
---